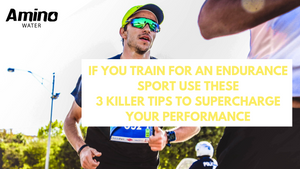 If you train for an endurance sport, use these 3 killer tips to supercharge your performance (2019)
Why Everyone Should Take Magnesium and Vitamin D
If you're looking to optimise your nutrient intake then a good place to start is with Vitamin D and Magnesium, we think these two supplements are a must for most people! Especially if you're active. Vitamin D - for strong bones and muscles, balanced hormones, reduced inflammation and boosted immune function. Magnesium - for mood, focus and sleep.
What causes post-exercise aches (DOMS)? Here's how to combat them
Feeling sore after training is part and parcel of the improvement process. The inflammatory response and tissue damage that occurs as a result of exercise is critical to triggering the recovery response, which allows improvements to occur.  For some people, the pain of delayed-onset muscle soreness (DOMS) is part of the fun. They know that the effort they're putting in is doing some good. But for most of us, we'd rather skip straight to the improvement part.