RECOVERY | EAA & BCAA Intra-Workout Drink Mix
RECOVERY | EAA & BCAA Intra-Workout Drink Mix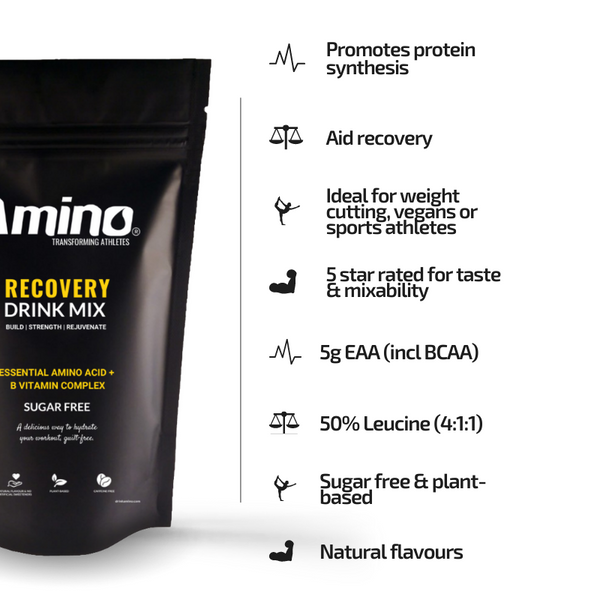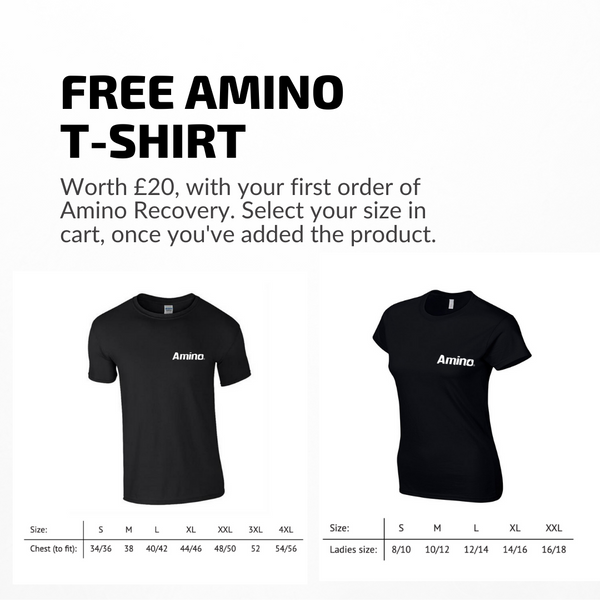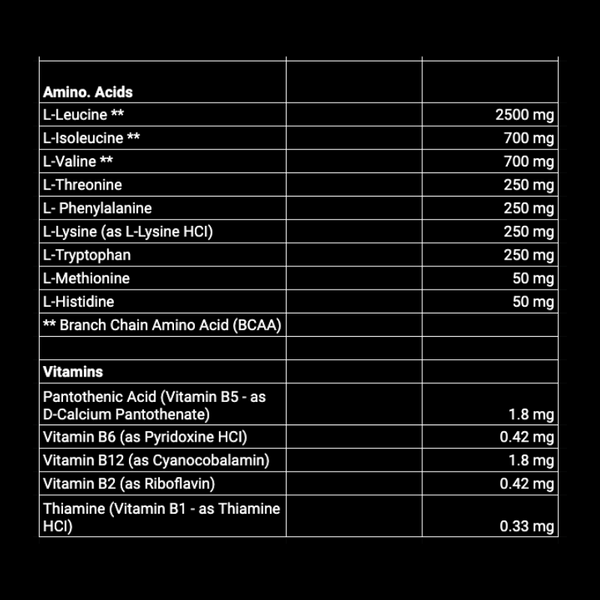 Refreshing muscle recovery in a drink
Product Overview
EAA intra-workout drink for targeted muscle mass protection and recovery.
Contains the 9 EAAs, which includes the 3 BCAAs and B vitamins you need to protect muscle mass and recover faster. This is because EAAs are more effective than BCAAs alone.
Product features include:
✓ 5g of EAA per serving, including the 3 BCAAs
✓ 50% leucine (4:1:1)
✓ Zero sugar & ultra low calorie
✓ Vitamin B complex (B5, B6, B12, B1, B2)
✓ Plant-based ingredients, suitable for Vegans.
✓ Natural flavours
Key Benefits
Helps you recover faster by supporting muscle repair. [1]
Protects muscle mass. [2]
Helps prevent muscle fatigue and soreness. [3]
Plant based, vegan-friendly source of all 9 essential amino acids.
Optimum ratio for muscle recovery, repair and growth. EAA blend - BCAAs in a leucine enriched 4:1:1 ratio. [4]
Light on the gut as there is no digestion needed.
EAAs are absorbed faster than dietary proteins. 
Ultra low in calories.
Why Choose?
Protects muscle mass and aids recovery. The muscle soreness you feel after a workout is your body's way of telling you it needs assistance with the recovery process; without the presence of sufficient essential amino acids (EAAs), your body will start breaking down muscle for energy which then limits your body's ability to repair and strengthen your muscles. All of your body's muscles, organs and hormones are made from amino acids (the building blocks of protein) and by consuming EAAs during periods of stress, like during training, you can support your body's natural repair and adaption processes. 
Comprehensive EAA blend that's more effective than just BCAA alone. EAA's (essential amino acids) also include the BCAA's (branched chain amino acids) which basically means that EAA's have the edge over BCAA's when it comes to performance. Science shows that we need to provide the body with all of the essential amino acids to have a significant effect on muscle protein synthesis. 
Popular with athletes in all disciples and goals. Amino Recovery is loved by gym goers, runners, cyclists, rugby and soccer players, and with good reason. Our EAA blend is perfect for those looking to increase their amino-acid intake in a quick and easy drink particularly if:
You're cutting calories to lose fat (EAA contains zero calories or sugar).
You've stepped up your training volume to build muscle.
You eat a vegan diet.
You're unable to eat protein consistently.
You're actively ageing.
Great alternative to creamy protein shakes. EAA drinks are also especially good for those who prefer an alternative to protein shakes. The fruity flavours of our EAA blends makes a refreshing and juice-like drink when mixed with water and is a lighter substitute to creamy protein shakes.
Six refreshing fruity flavours. Not only do our supplements provide excellent nutrition, but they taste great as well. There's a flavour for everyone, our EAA blend comes in six delicious flavours: Cherry, Red Berry, Cloudy Lemon, Green Apple, Blue Raspberry and Watermelon.
Suggested Use
Mix 1 8g serving (4 scoops) into 300-700ml of ice-cold water, dependant on sweetness preference. Consume this ideally during your workout.
You can also consume amino acids pre- or post-workout, but they are most effective when consumed intra-workout, as the body absorbs them more quickly.
During periods of calorie restriction or heavy training volumes, you can increase your dosage to 2/3 servings as EAA effects are dose dependent.
EAA's are not needed on non-training days if the protein intake in your diet is adequate.
Ingredients
Vegan fermented essential amino acid blend: (L-Leucine, L-Isoleucine, L-Valine, L-Phenylalanine, L-Threonine, L-Lysine (as L-Lysine HCl), L-Tryptophan, L-Methionine, L-Histidine) B Vitamins (Pantothenic Acid (as Calcium D-Pantothenate), Vitamin B6 (as Pyridoxine HCl), Vitamin B12 (as Cyanocobalamin 0.1% on Maltodextrin), Vitamin B2 (as Riboflavin), Thiamine (as Thiamine Hydrochloride)), Citric Acid, Malic Acid, Stevia Reb-A 97%, Sucralose, Natural Flavour System (Contains a source of phenylalanine)

Allergens: For allergens, see ingredients in bold.

Caution: Consume in moderation as part of a varied balanced diet and healthy lifestyle. Seal the pouch after use and store in a cool dry place.
Nutrition facts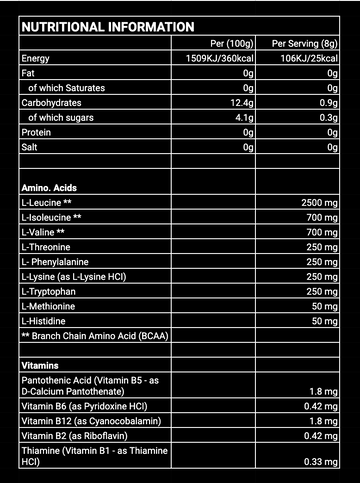 What you will get?
The product pouch and scoop, a free t-shirt for new customers, samples of the other flavours, fast shipping and any merchandise depending on the order number and offer.