FOCUS | Nootropic Pre-Workout Drink Mix
FOCUS | Nootropic Pre-Workout Drink Mix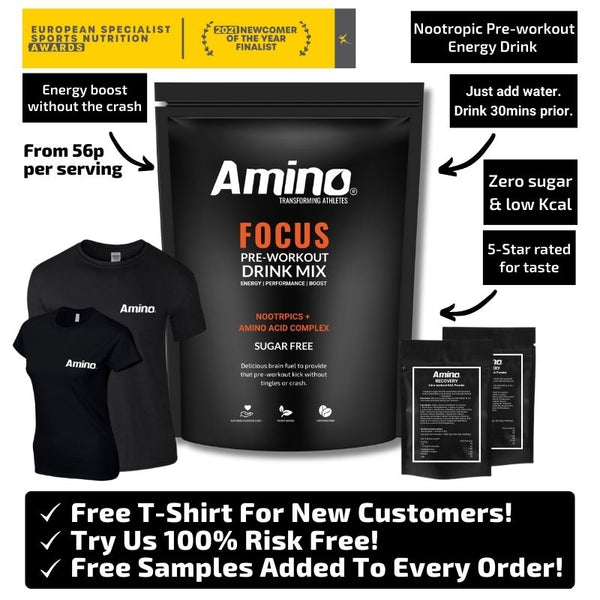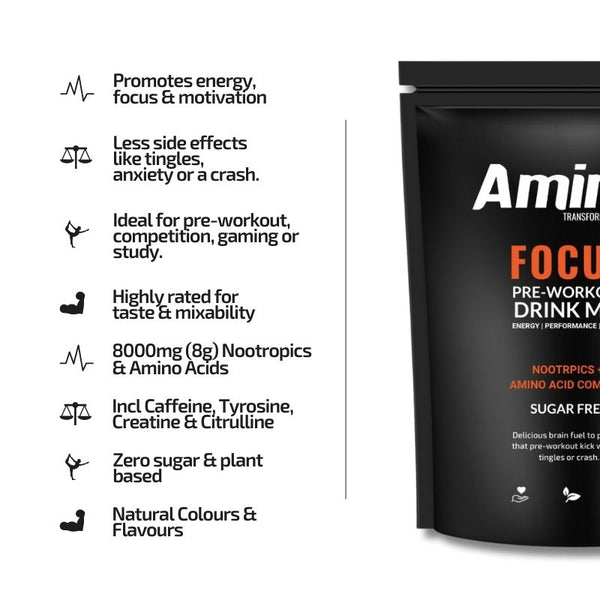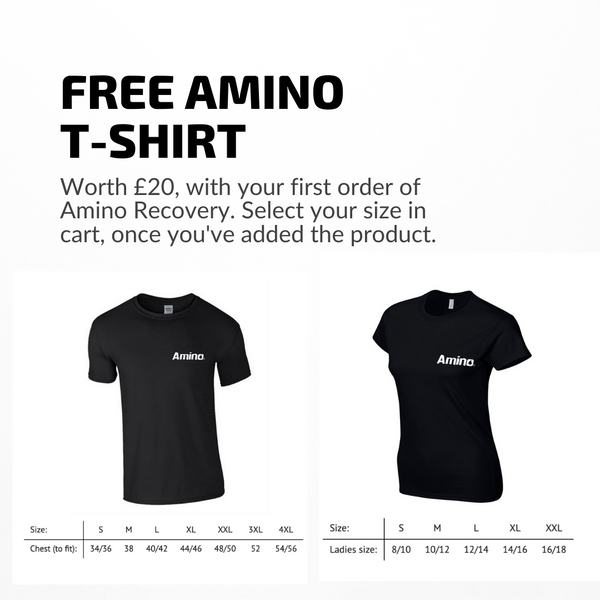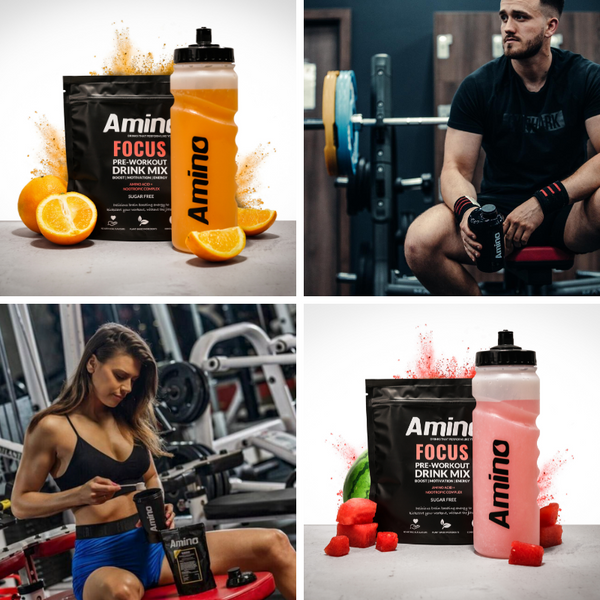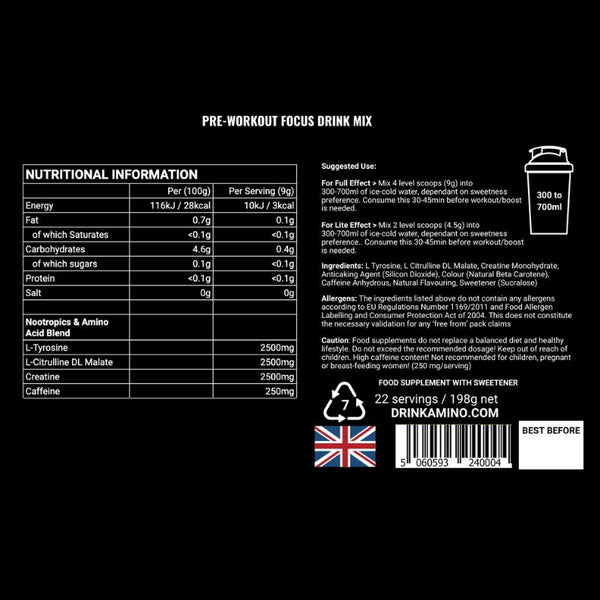 Raise your energy, focus and motivation
Product Overview
Amino Focus is a nootropic and amino acid powder blend. It's a refreshingly easy way to get that pre-workout, in-game or during-work boost that you need. The powder is designed to make your pre-workout 100% effective and tasty, with no compromise.
Product features include:
✓ 8000mg (8g) of Nootropics & Amino Acids per serving
✓ Including Caffeine, Tyrosine, Creatine & Citrulline
✓ Zero sugar
✓ 3 kcal per serving
✓ Fewer side effects like anxiety, itching & tingles
✓ Natural colours, flavours & plant-based ingredients suitable for vegans.
Key Benefits
Increased energy, focus and drive.*
Promote neurotransmitters for neural drive, cognition and memory.
Provides a mental edge during workouts.
Promotes motivation to work out and push further.*
* Caffeine enhances reaction time and energy by stimulating the body's central nervous system. 
Why Choose?
Boost energy and motivation both physically and mentally. Amino Focus is scientifically designed to promote the neurotransmitters involved with energy, focus, neural drive, cognition, memory and motivation. 
Perfectly balanced energy and brain boosting complex. This pre-workout powder is packed with brain and body-boosting ingredients that are effective but with fewer side effects (anxiety, tingles, post-workout crashing, itching) than other pre-workouts.
Popular with athletes in all disciples and goals. Amino Focus boosts energy and motivation for that extra focus pre-workout, in-game, or while working. No matter where you choose to workout, a great session always starts with proper preparation. 
Four refreshing natural fruity flavours. Not only do our supplements provide excellent nutrition, but they taste great as well. There's a flavour for everyone, our FOCUS blend comes in four delicious flavours: Orange, Watermelon, Apple and Red Berry.
Suggested Use
For Full Effect > Mix 4 level scoops (9g) into 300-700ml of ice-cold water.

For Lite Effect > Mix 2 level scoops (4.5g) into 300-700ml of ice-cold water.
Consume this 30-45min before workout/boost is needed.
Ingredients
CAFFEINE enhances reaction time and energy by stimulating the body's central nervous system. It gives you a fantastic energy boost to help you power through your workout.
L-TYROSINE is an amino acid that has been found to help individuals deal with stressful situations (which deplete norepinephrine), as well as possibly prevent age-related and stress-induced memory and attention problems.
CREATINE has a primary benefit of improvement in strength and power output during resistance exercise. It also appears to reduce mental fatigue in scenarios such as demanding mental activity and sleep deprivation. It may also improve working memory.
CITRULLINE MALATE is an amino acid that has been found to enhance athletic performance by increasing the amount of oxygen used by your muscle tissue, which can lead to better endurance and weight-lifting performance.
Ingredients: L Tyrosine, L Citrulline DL Malate, Creatine Monohydrate, Anticaking Agent (Silicon Dioxide), Colour (Natural Beta Carotene), Caffeine Anhydrous, Natural Flavouring, Sweetener (Sucralose)

Allergens: The ingredients listed above do not contain any allergens according to EU Regulations Number 1169/2011 and Food Allergen Labelling and Consumer Protection Act of 2004. This does not constitute the necessary validation for any 'free from' pack claims

Caution: Food supplements do not replace a balanced diet and healthy lifestyle. Do not exceed the recommended dosage! Keep out of reach of children. High caffeine content! Not recommended for children, pregnant or breast-feeding women! (250 mg/serving)
Nutrition Facts
Serving Size - Full: 4 scoops (9g); Lite: 2 scoops (4.5g)
Servings Per Container -  22 (198g)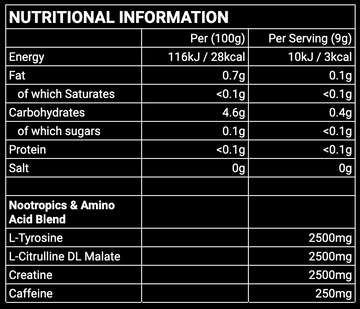 What you will get?
The product pouch and scoop, a free t-shirt for new customers, samples of the other flavours, fast shipping and any merchandise depending on the order number and offer.